The holidays are a time to celebrate, but also a time for rich reflection. As we look back on this year, we are reminded of what's truly important in our communities: unity. This year's wrapping celebrates unity as more than an idea. With the help of artists and community organizations, we explore how it's built into the very fabric of our urban environments. We look at the power of placemaking to promote diversity, elevate tradition and bring people together. Our street vernacular, our shared spaces and our people. These are reflections of our culture and opportunities to push for a more inclusive society—Urban Experience for the Holidays.
Our design partners this year are the amazing folks at Free Agency Creative. They turned to three renowned and inspirational artists to interpret how the wide and wonderful scope of our communities increase our quality of life. Cristian Fowlie, Sebastian Abboud and Tom Froese all applied their talents and each designed two sheets of wrapping paper.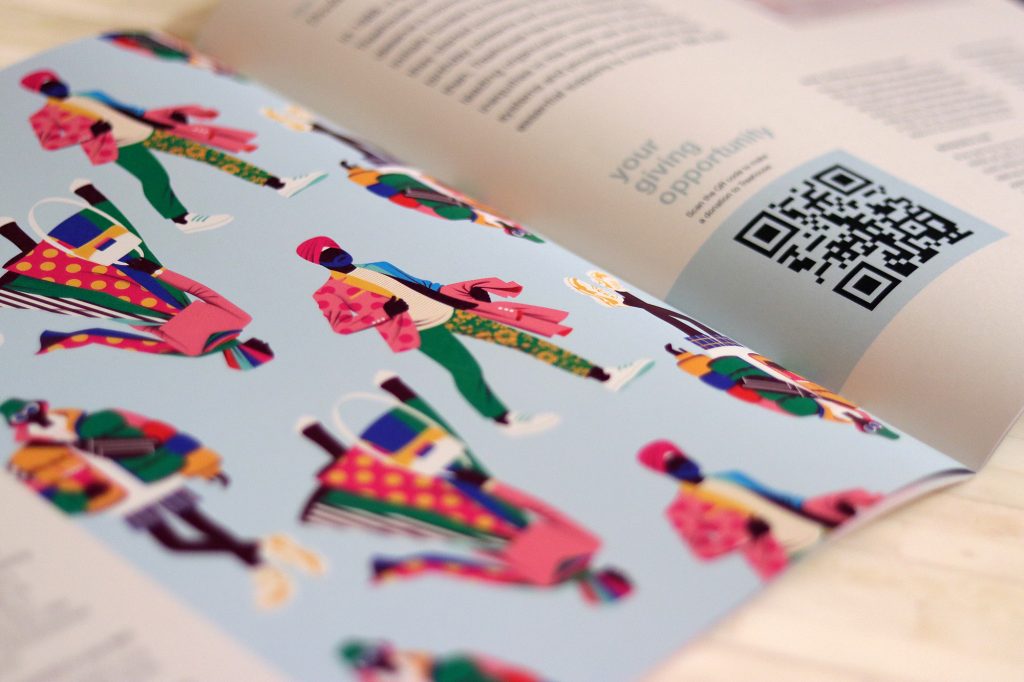 We also wanted to retain the important and successful charitable aspect of last year's Wild World Holiday Wrap, looking to Free Agency to assist in creating a new way to give. As a result, this year, in addition to the six sheets of wrapping paper (and corresponding gift tags), there is now also a 16-page zine that both profiles the artists who designed the Wrap but most critically—three non-profit organizations whose work helps better people and their communities.
We hope that after reading those profiles, you will better understand the remarkable work they do, and be inspired to choose to donate to one (or all) of the deserving non-profit organizations. It is as easy as scanning the QR codes in the booklet. They will take you directly to the organization's donation page where you can help make a difference.
Here, then, is a brief overview of this year's remarkable wrap, Urban Experience for the Holidays, the designers who made it happen, that charitable organizations linked to those themes.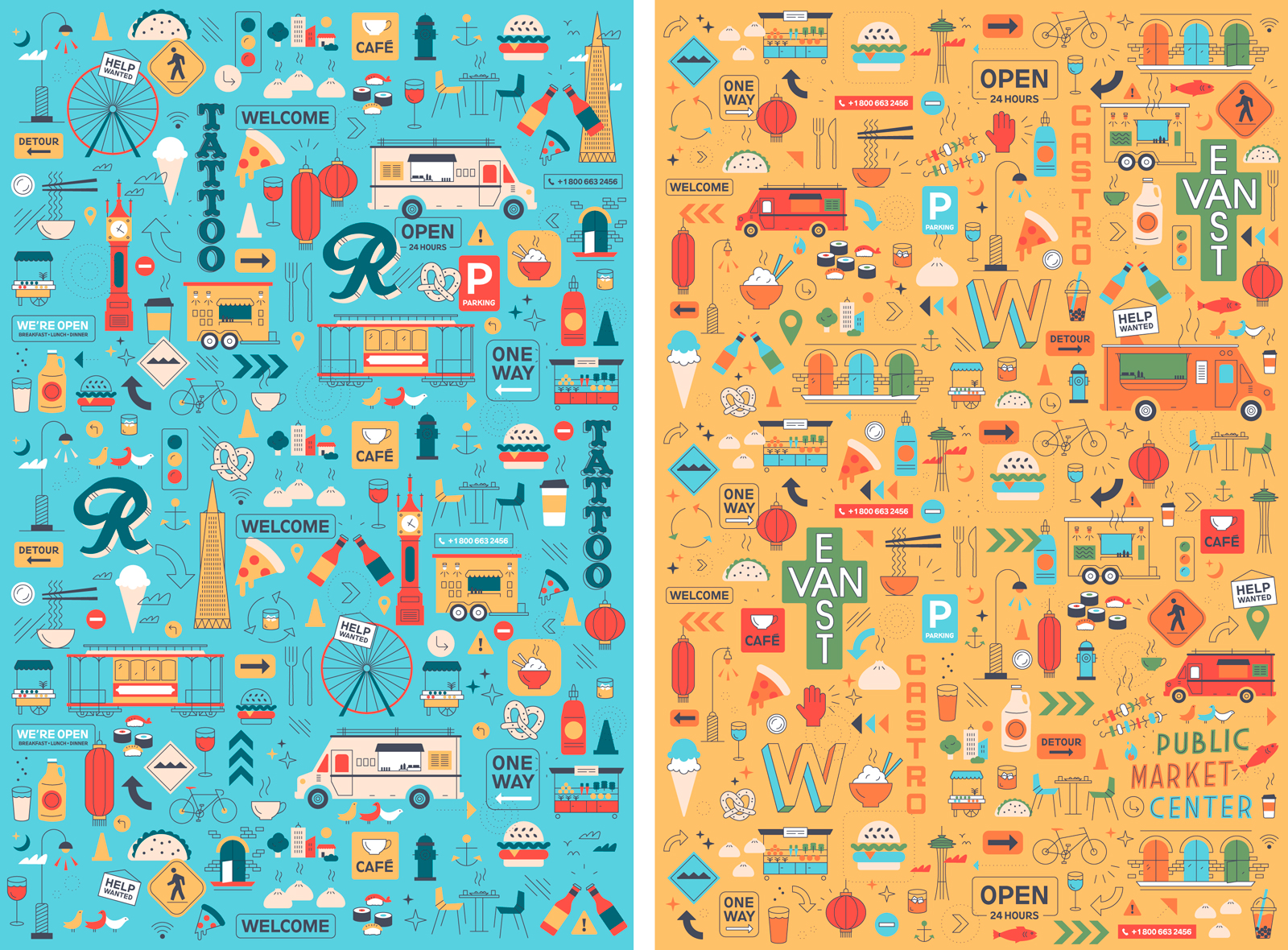 Street Vernacular
A celebration of the texture and vibrancy of the urban environment expressed through familiar symbols, icons, directional cues, food and drink, and cherished landmarks. A staple of any urban experience.
Artist: Sebastian Abboud
Sebastian Abboud is a freelance designer and illustrator based in Nanaimo, BC, Canada. He has worked with brands, products and people from all over the world. In addition to the freelance life, Sebastian also teaches design and illustration courses at Vancouver Island University.
Giving Opportunity: Vancouver Heritage Foundation
Established in 1992, the Vancouver Heritage Foundation promotes the appreciation and conservation of the city's historic places. VHF helps locals and visitors learn about Vancouver's history and heritage – and celebrates the unique and lesser-known histories of the people, places and events that have shaped Vancouver throughout the years.
Vancouverheritagefoundation.org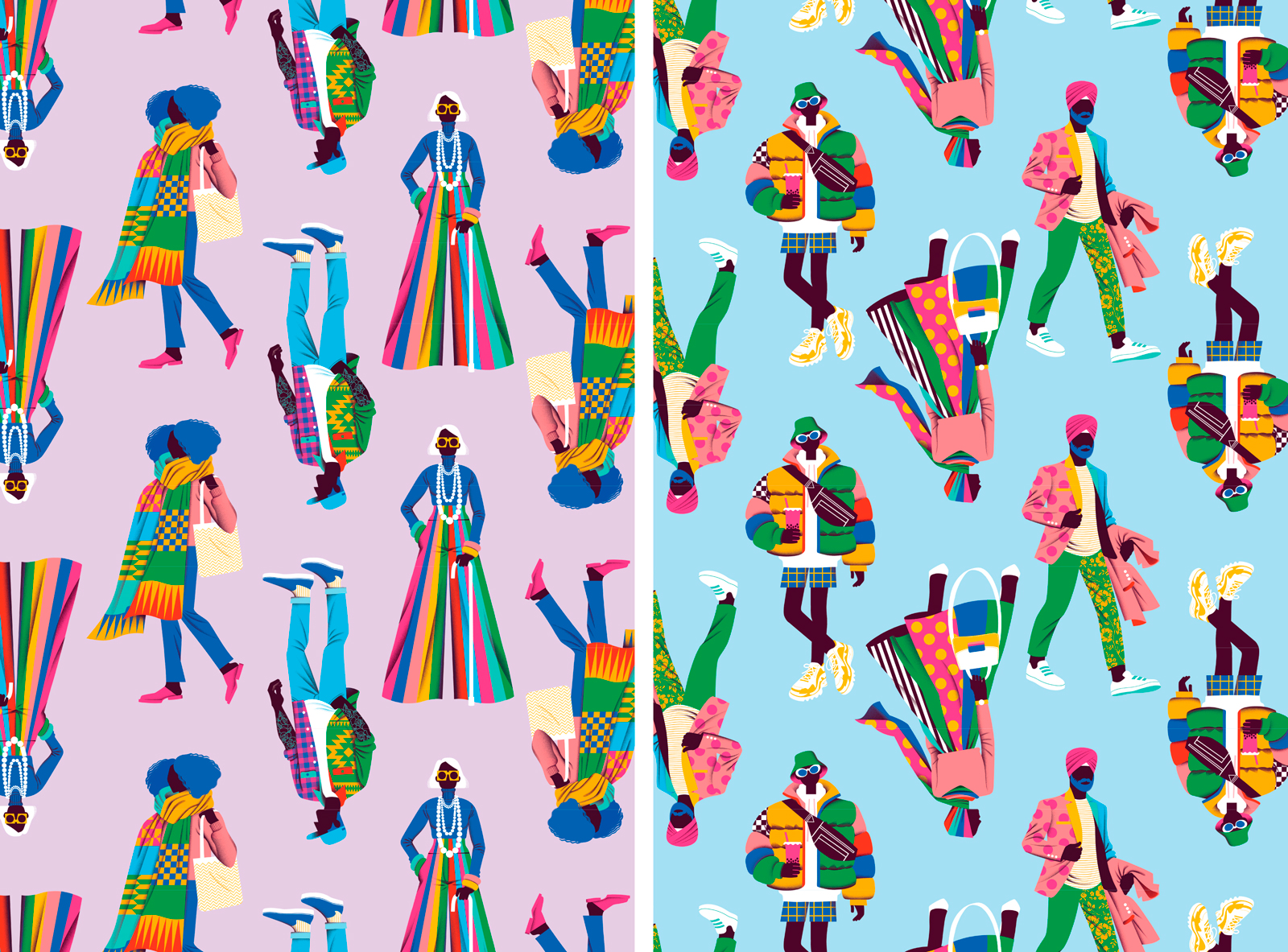 Diversity
An exploration of the distinctive characters and cultures found in our West Coast cities. Unique yet connected by coordinating colours, shapes and patterns.
Artist: Cristian Fowlie
Cristian Fowlie is an illustrator based in Hamilton, ON, Canada. He is a graduate of the IDEA Program at Capilano University, and his work captures the character of people, places and ideas – both real and surreal. His forthcoming project illustrating a book, Kids Food Nation Vol.5, is being released by Editions Cardinal.
Giving Opportunity: Treehouse 
Treehouse was founded in 1988 by a group of social workers who believed that kids in foster care deserve a community committed to success. Initially funded by bake sales and car washes, they started purchasing the little things like birthday presents and school supplies. Since then, Treehouse has become Washington's leading organization working to eliminate inequities in the foster care system and provide academic and other essential supports to more than 7,800 youth.
Giving Opportunity: Downtown Eastside Women's Centre
Founded in 1978, the Downtown Eastside Women's Centre provides a safe, non-judgmental environment for women from all walks of life who live and work in Vancouver's Downtown Eastside. The Centre is grounded in the belief that women are the experts in their own lives, and every decision is made in consultation with the community, volunteers and Indigenous elders.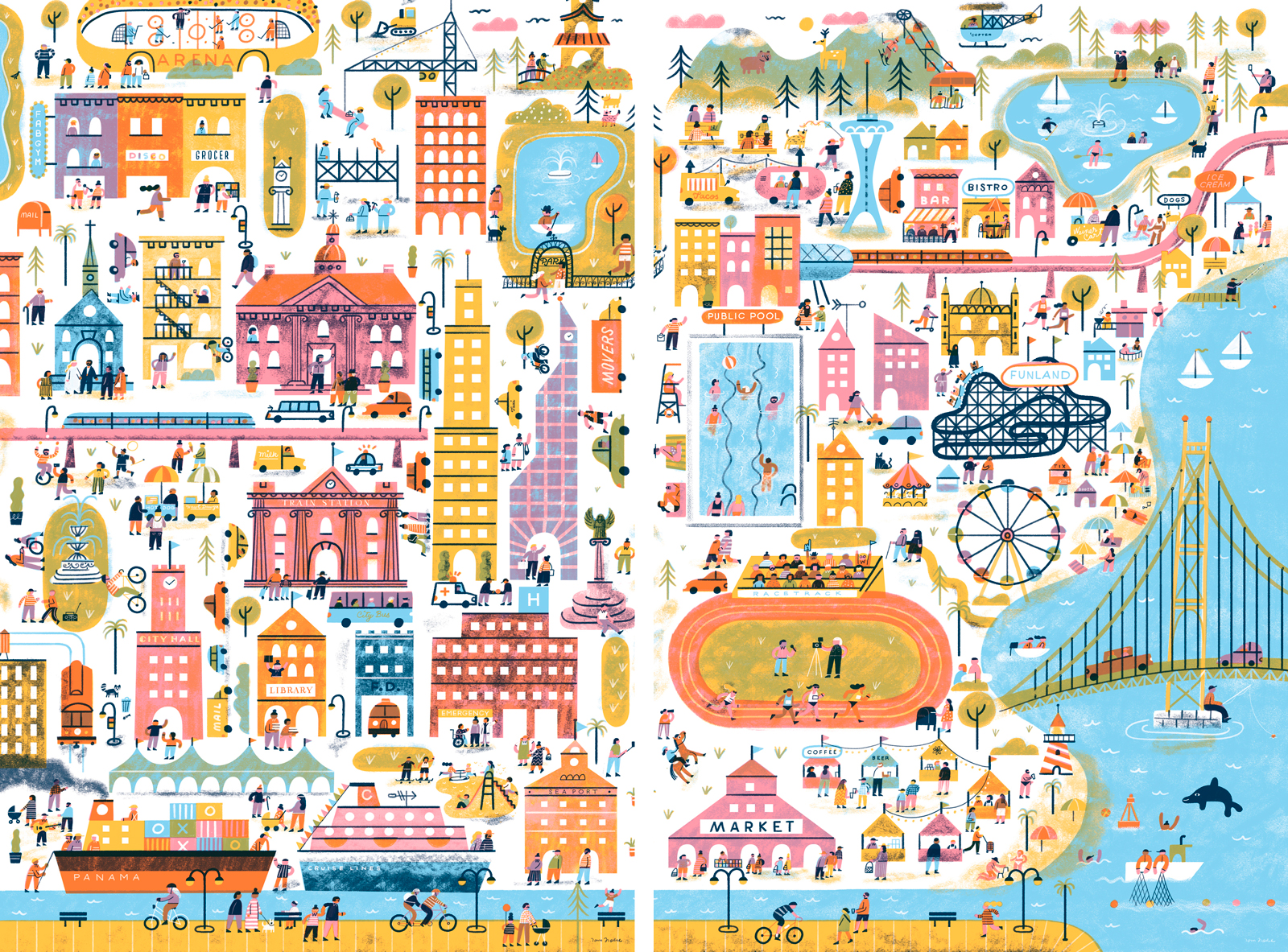 Shared Spaces
A vignette of the joyful spirit of life in a bustling, healthy city, where people gather, connect and create a shared sense of community identity. a true urban experience.
Artist: Tom Froese
Tom is an award-winning illustrator, teacher and speaker living in Chilliwack, BC. He loves making images that make people happy. His work is characterized by a flurry of joyful colours, spontaneous textures and quirky shapes. Freelancing since 2013, Tom has worked for brands and businesses all over the world.
Giving Opportunity: CommunityGrows
Established in the 1970s, CommunityGrows provides environmental justice education, garden classes, cooking classes and a paid teen job readiness program to BIPOC and low-income youth in San Francisco – a community facing a disproportionate lack of access to outdoor space. The programs directly cultivate thriving, connected communities by focusing on youth and giving them the tools they need to lead healthy and socially engaged lives.
Giving Opportunity: Fresh Roots
In 2009, Fresh Roots founder Gray Oron and Ilana Labow were curious to see how much food they could grow in their East Vancouver backyards to share with their community. Eventually, a nearby elementary school approached them for help transforming their school garden. In 2013, an agreement with the Vancouver School Board established Educational Schoolyard Farms: thriving places for sharing multicultural and intergenerational knowledge.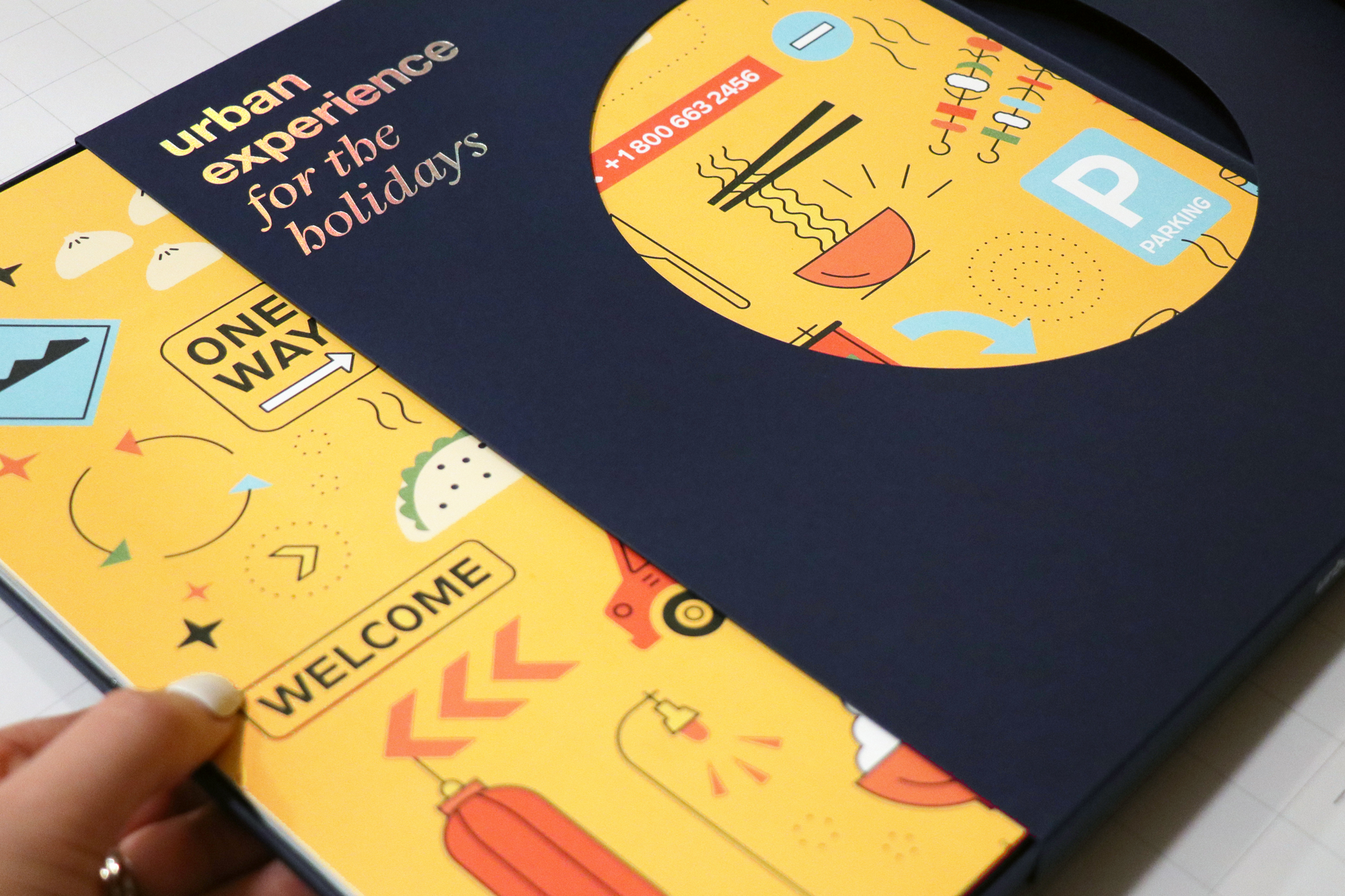 The Finer Details:
The folder features a silver holographic foil on 130lb Classic Crest Eggshell Cover in Patriot Blue.
Zine: 80lb Classic Crest Smooth Text in Antique Grey with UV CMYK plus two hits of white ink and one Pantone ink.
Gift Tags: 130lb Classic Crest Smooth Cover Avalanche White with UV CMYK plus 4 Pantone colours.
Gift Wrap Sheets: 70lb Classic Crest Smooth Text Avalanche White.
The Street Vernacular sheets: 8 UV Pantone inks.
The Diversity sheets: UV CMYK plus 2 Pantone inks.
The Shared Spaces sheets: 4 UV Pantone inks, in place of a traditional CMYK.

The Urban Experience for the Holidays Team
Again, a huge thank you to our friends at Free Agency Creative for their amazing work creating this beautiful set of wrapping paper. Also, to Sebastian Abboud, Cristian Fowlie and Tom Froese for their breathtaking artwork. To Rachel Smith for writing copy in the booklet. And to Neenah Paper, for their support and consideration in supplying the gorgeous line-up of papers on which this work as produced.