Local governments in Canada spend approximately 3.2 billion dollars every year managing 34 million tonnes of waste. At Hemlock, becoming Zero Waste by 2030 goes far beyond the operations of our own business. We want to help accelerate Canada's transition to a circular economy where there is no such thing as waste. But becoming a catalyst for a change like this is no small feat—it involves systems-thinking, innovation, and collaboration throughout our supply chain. Looking ahead, Hemlock will be thinking outside the box about Zero Waste; designing waste out of our products and processes; re-imagining our business models; and developing policies to encourage behavioral change.

In Part 1 of this Zero Waste blog post series, we defined our Zero Waste strategy. We measured our material streams with a Dumpster Dive and gathered insights from employees and Simon Fraser University students. In this blog post, we will share how we've started to put our strategy into action.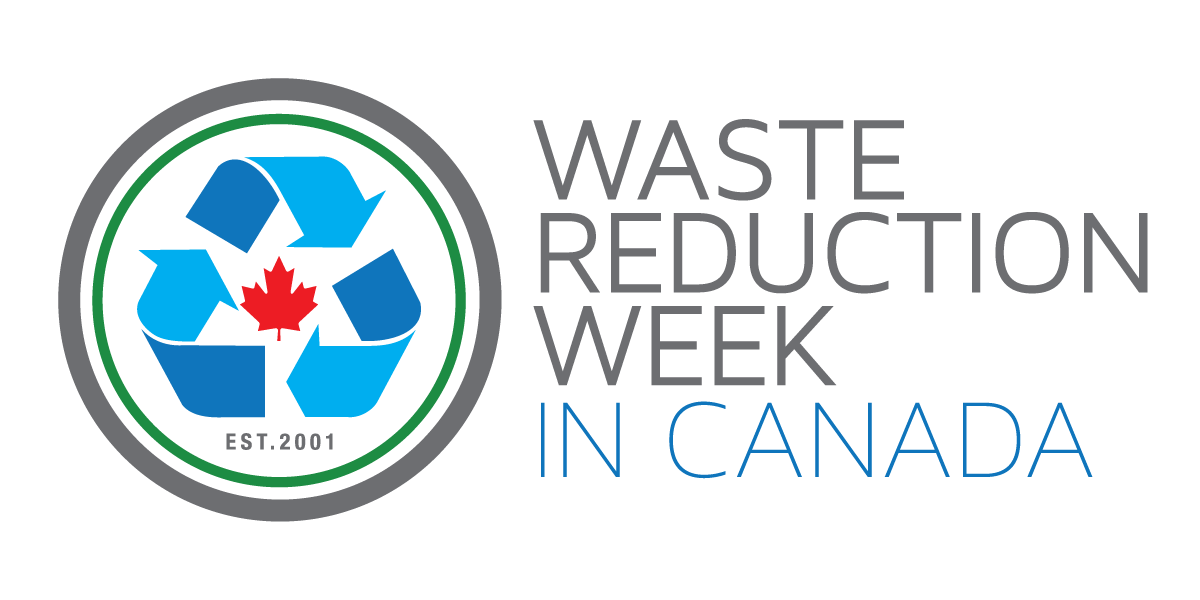 In celebration of Waste Reduction Week in Canada, we are sharing our journey to Zero Waste with the hopes of educating communities and inspiring businesses to join us in participating in the circular economy.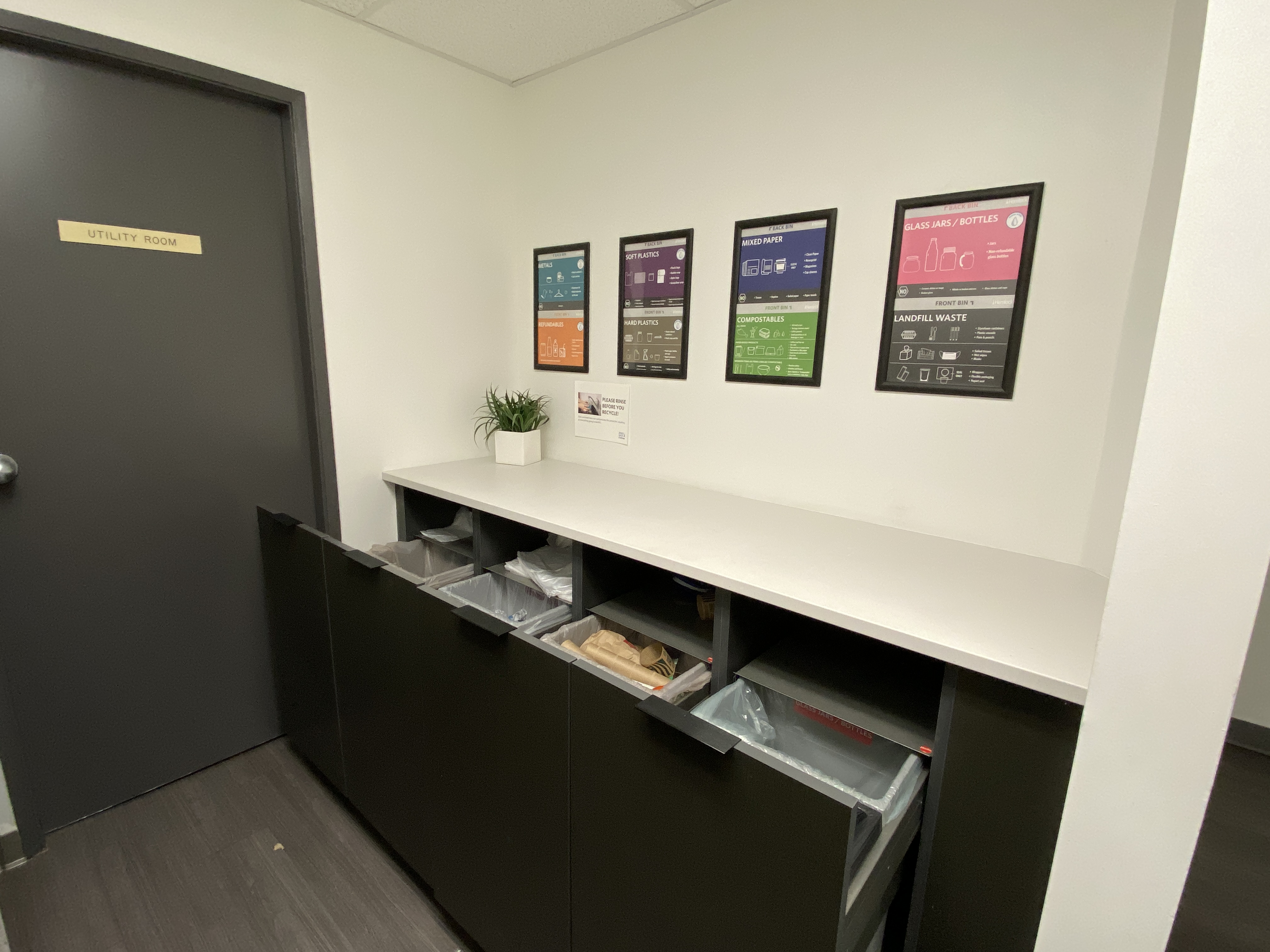 New Zero Waste Recycling Stations
To further improve our waste management practices, we welcomed a new line-up of guidelines, bins and signage.
We decided to split this project into two phases:
Everyday essential bins for basic office and food items
Commercial bins that will deal with more complex waste streams occurring from the production of our print products
Phase 1 of revitalizing our guidelines and signage for an employee's everyday recycling needs was a significant project, taking us a total of six months to fully implement. The project required help, coordination and insights from our Sustainability Manager, our Recycling Collector, Marketing Manager, Director of Manufacturing, Production Manager, VP of Pre-press, and Maintenance Lead. An internal team met on a bi-weekly basis to create plans that included:
Procurement of bins
The design, layout and location of stations
Signage design and printing
Development of a policy for staff to follow
Staff communication
Project plans and materials underwent review by our Sustainability Think Tank committee, which consists of employees from all departments.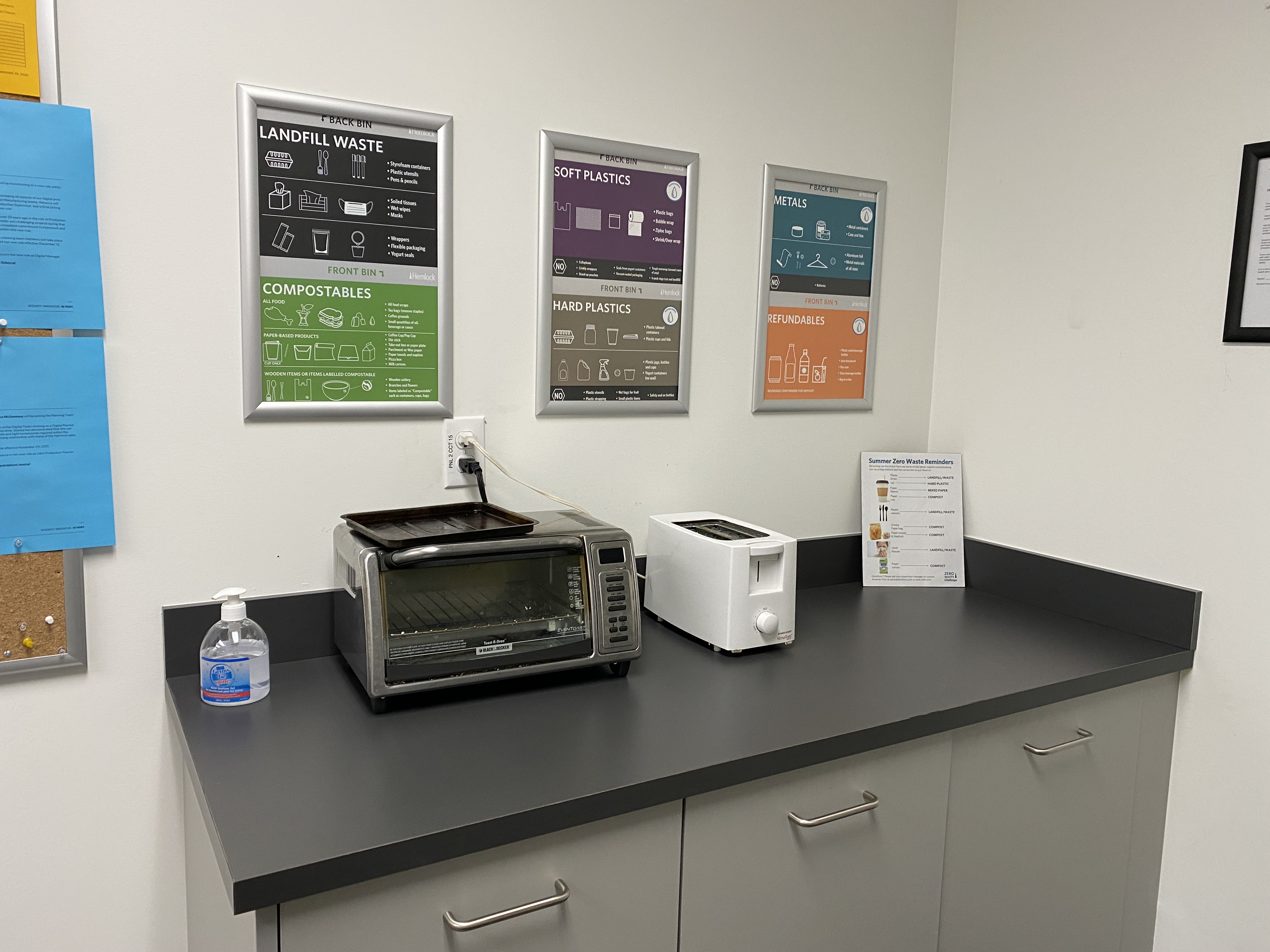 We were able to set up these Zero Waste stations at key areas around the office and production, including our two Kitchen Coffee Spaces, Lunchroom and Production Area in Fall 2020. Through a company-wide memo and supervisor communication to their teams, we introduced staff to these new stations featuring new signage and slide-out recycling bins. We plan to launch Phase 2 of this project (commercial recycling stations) in 2022.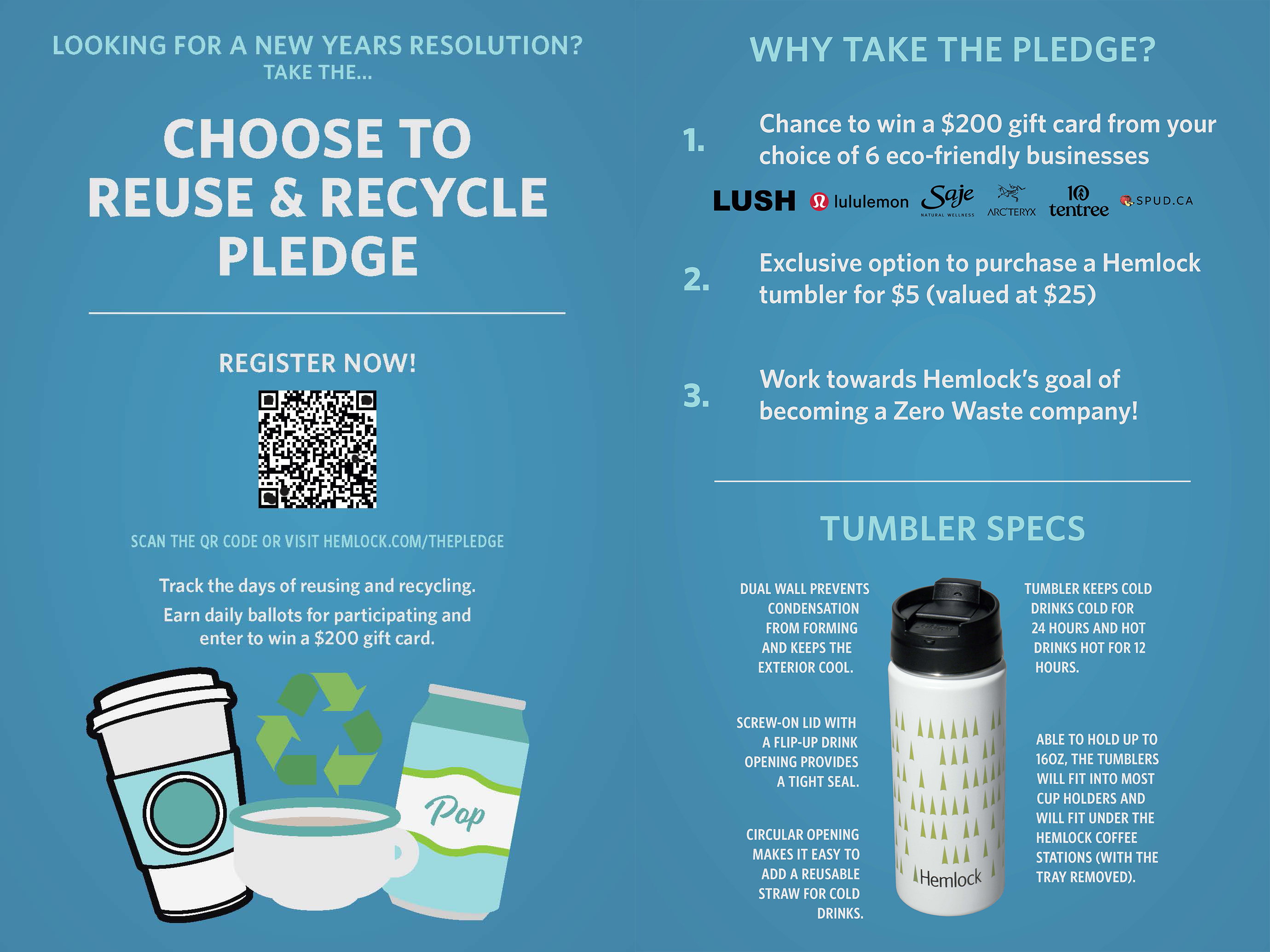 Choose to Reuse and Recycle
With our new recycling stations up and running, we decided to follow-up this initiative with a second Zero Waste Challenge called the Choose to Reuse and Recycle Pledge at the beginning of 2021.
The Pledge challenged our staff to make reusing and recycling part of their new year's routine. The purpose of this two-month contest was for our employees to familiarize themselves with the new recycling stations and use reusables in place of single-use items wherever possible.
Staff signed-up for free and earned points on the days they reused and recycled through a printed calendar or online tracker. By participating, staff had a chance to win a $200 gift card from their choice of six eco-friendly businesses and the exclusive option of purchasing a Hemlock branded tumbler for $5. As we delivered tumblers to staff, we could see the growing enthusiasm from our department supervisors and employees, which was also reflected in the follow-up feedback surveys distributed after the Pledge ended.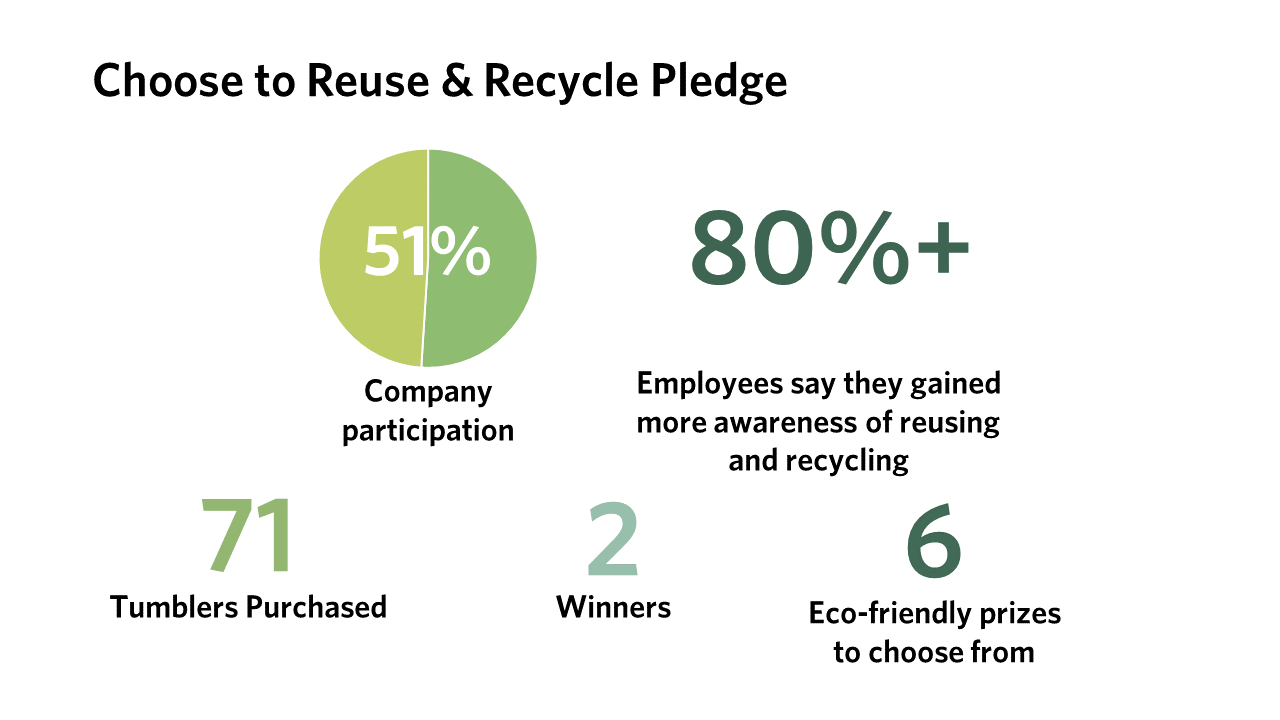 This initiative was met with great success – nearly 100 employees signed up for the Pledge and over 80% of employees who participated in our follow-up survey reporting that they gained more awareness of reusing and recycling.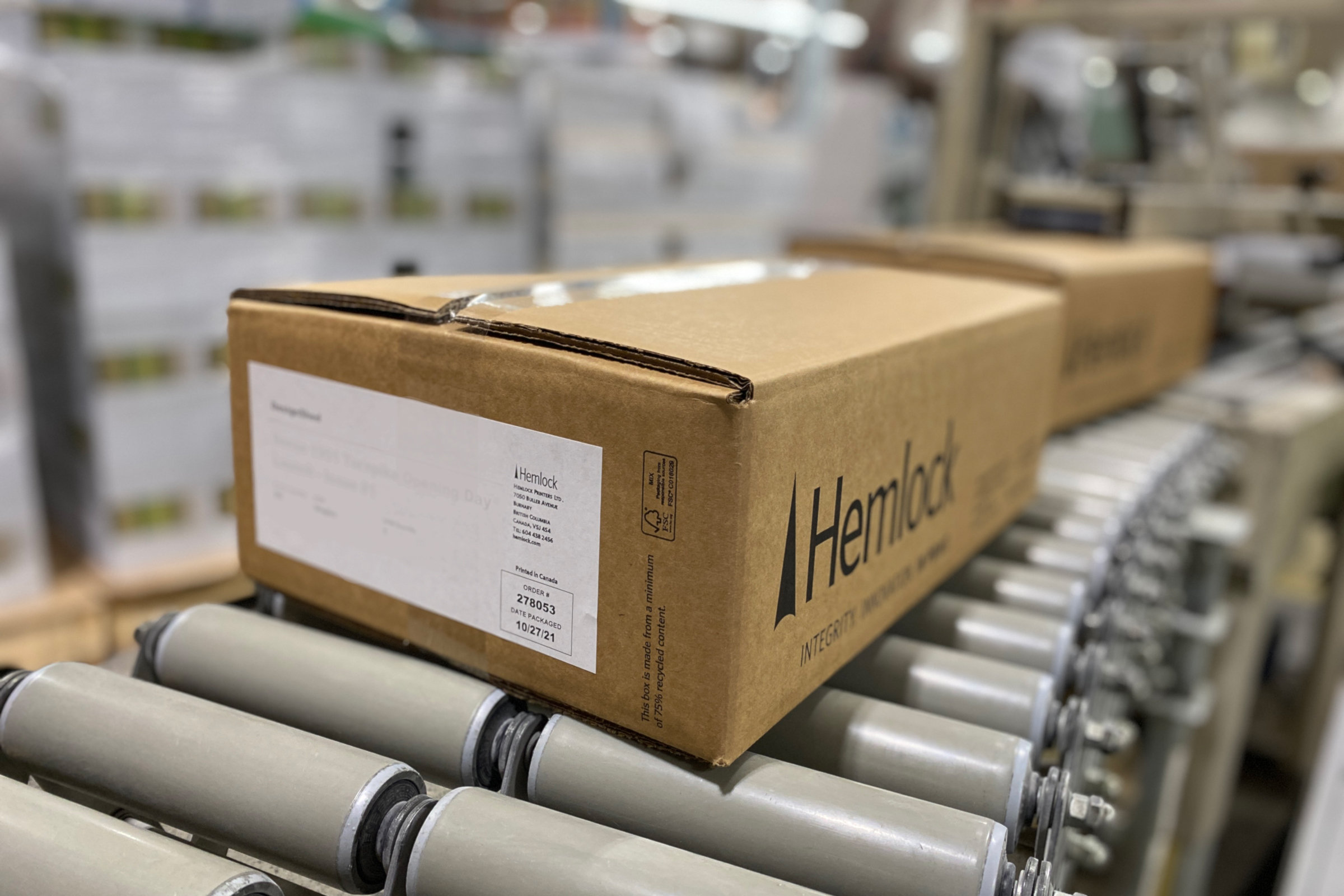 Discovering Zero Waste Opportunities
In addition to larger scale initiatives, Hemlock also has seen great benefit in empowering our employees to identify and implement everyday waste reduction opportunities:
We improved the recycling of fine paper residues produced by our grinder that were disposed in the dumpster rather than recycling. Our Production Manager put up signage and retrained our production workers to bag these papers for recycling.
We have been recycling our aluminum plates for many years and receive money back from our recycler.
During our office renovations, we donated our used furniture, excess paper, and school supplies to Habitat for Humanity and a local elementary school.
For the past decade, we've participated in Executive Mat's Oily Towels to Clean Energy initiative
We increased the recycling content in our shipping packaging to a minimum of 75% recycled fiber
When you think outside the box and grow awareness, Zero Waste opportunities can be found anywhere!

Hemlock's Next Steps for Zero Waste
What does the future look like for Zero Waste at Hemlock? Here are a few plans we'd like to share with you:
We would like to verify our waste diversion rate by working with our recycler and an external certification program. This will help us go beyond the annual dumpster dive audit, accurately measure our waste reduction efforts on a more regular basis, evaluate our waste streams up and down our supply chain and further educate and involve our staff and key stakeholders in our efforts to go Zero Waste.
We will be revamping our commercial recycling stations in 2022 to optimize recycling of materials coming from pre-press and production.
We will pilot a reusable skid and tote program to reduce the number of wooden skids and single-use cartons we consume.
If you have any questions about how we've implemented our Zero Waste strategy and initiatives or have your own Zero Waste insights to share please reach out to Hemlock's Sustainability Manager, Amanda Chor (achor@hemlock.com).