Celebrating the success of our 2020 Wild World Holiday Wrap campaign, Hemlock is proud to announce two $5,000 donations to Canopy Planet and WWF-Canada, both of whom are leading the effort to protect the world's precious intact forest landscapes.

After nearly two decades of producing premium gift wrap sets for clients, suppliers, staff and community partners, Hemlock chose 2020 to expand the program to a wider audience, making it available for purchase online through our campaign website wildworldwrap.com.
The foundational design theme for our 2020 Wild World Wrap was a celebration of global forest biodiversity, highlighting the beauty of six distinct forest landscapes across five continents. The stunning designs, courtesy of illustrator Misha Zadeh, profiled unique plant and animal species found in each ecosystem. We received a fantastic response from customers across North America who began placing orders as early as October and actively continued through the holiday season.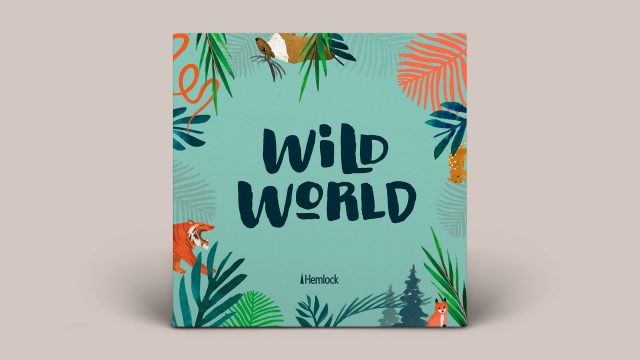 Through the project, our goal was to raise awareness of the importance of intact forest biomes and the critical role they play in preserving biodiversity and climate stability. We utilized the most environmentally progressive papers and processes available, using 100% post-consumer waste papers from Rolland Paper as well as Mohawk's groundbreaking Renewal Paper line which utilizes fibers from agricultural waste sources.
When selecting the right not-for-profit partners, it was a natural fit to support the forest champions at Canopy who have worked tirelessly over the past 25-years with the industry's biggest customers and supply chain partners to develop business solutions that protect Ancient and Endangered forests.
We are also pleased to contribute to WWF-Canada, which undertakes critical conservation work to protect and restore threatened habitats, fight climate change and create a world where nature and people thrive.
"We're proud of the success of this year's expanded program, allowing us to make substantial contributions to these remarkable organizations," says Hemlock's VP Sales & Marketing Doug Climie. "This program is also an important reflection of our recently established Social Purpose—To create connections, build community and inspire actions that safeguard the health of the world's forests—and lays a solid foundation from which we can build new initiatives in which all our stakeholders can participate."
Hemlock extends huge thanks to all participants in the 2020 Wild World Wrap program, especially our inspirational designer Misha Zadeh and her creative partner Ben Graham, our supportive sustainable paper friends at Rolland and Mohawk, our long-time partners at FSC Canada who provided promotional engagement, and all our loyal customers who contributed towards this donation by purchasing our Wild World gift wrap sets.
If you have any questions about this campaign or our contributions, please email contact@hemlock.com.