Our annual tradition, the Hemlock Holiday Wrap is now in its 13th year. Clients often ask well in advance "Am I on the recipient list? When is it arriving? What's the theme this year?". So if you're reading this, you're both a valued recipient and you found our blog. If you're a keener to our site and don't have a set of wrap, please drop us a line and we'll see what we can do. This year we produced 3,000 sets, but hurry, they go quickly!
Our goal each year is achieved by collaborating with a leading designer and our own technical team, together exploring innovative processes using a variety of substrates and printing techniques. With the help of our good friends from Seltzer Group in New York, this time we've successfully pushed the technical limits of high dispersion coatings, substrates and ink treatments. A key challenge we've set and overcome is the application of specialty coatings to both coated and uncoated text weight papers. Don't look here for exactly how we did it – that's a closely guarded secret – but what we can share are the exciting design results of our R&D efforts.
The early reviews within the Hemlock team are "possibly the best, ever" – no disrespect to those produced previously, of course, they are magnificent as well – we just keep setting the bar higher!
Fun fact for those of you who like a little help cutting your wrapping paper straight – check out the printed grid on the back. Those aren't grey lines – take a magnifier to read our secret message, "Happy Holidays from Hemlock Printers".
Let us know your thoughts below in the comments section.

The Case
First, our Prepress manager and self-described "foodie", Bernie Chiu, walked the technical team through the segments of a "macaron"; now we're technical geeks, but who knew the parts were named!?
Second, now educated in macaron anatomy, we applied Grit coating to both the upper "foot" as well as the lower "foot". On advice from Bernie, we avoided any treatment of the "ganache".
High dispersion coatings, (technical speak for "we apply lots"), are applied with a flexographic plate, mounted on the presses coating unit, immediately after the presses printing units, to achieve the texture effect.
Production details:
UV CMYK process plus a strike through treatment and Spot Grit coating on the twine & the foot of the macaron.
Substrate: 130lb Topkote Gloss Cover, a great choice for heavy coverage and specialty treatments, with minimal risk of cracking.
Press:
Heidelberg 106 UV, 6 colour, plus coating.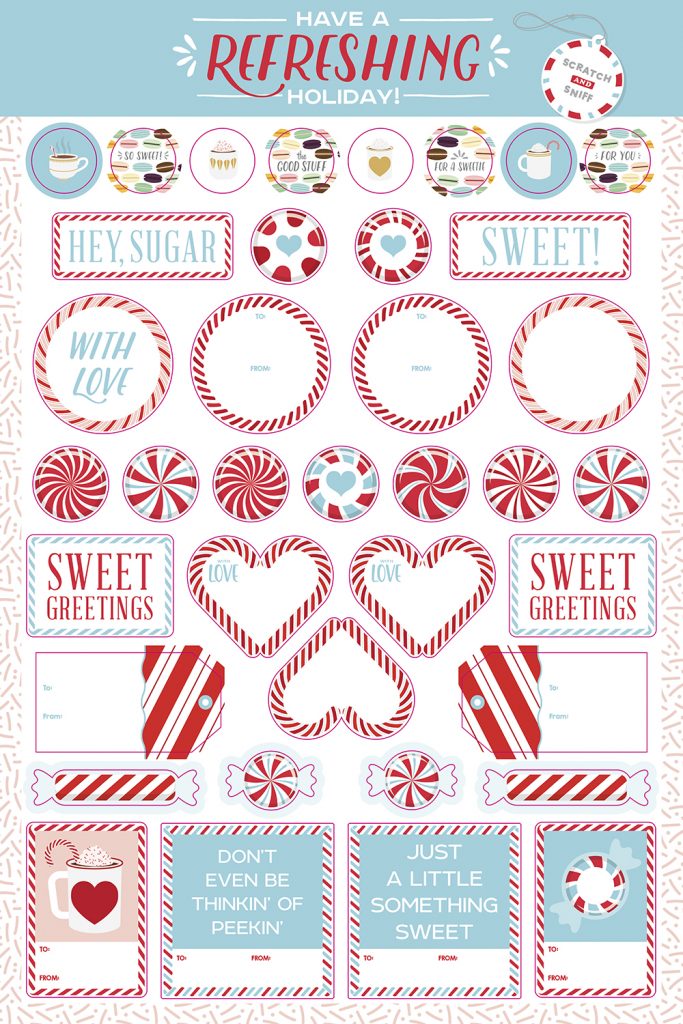 The Sticker Sheet
The stickers are always a hit, so this year we did something extra. We applied a scented "peppermint" varnish to the just the "candy" stickers, and respecting that some folks can be sensitive to scents, we intentionally left it off the labels.
Applied like a varnish, each scent is encapsulated in a clear base, and just a gentle rub will break the surface and release the scent (click here for a list of all the scents available to choose from).
Production details:
CMYK process with a Flood Satin Varnish. A Peppermint scented varnish was applied to specific stickers, kiss cut die for shapes.
Substrate: 60lb. Spinnaker FasTrack
Press:
Heidelberg SM 52, 6 colour, with aqueous coater.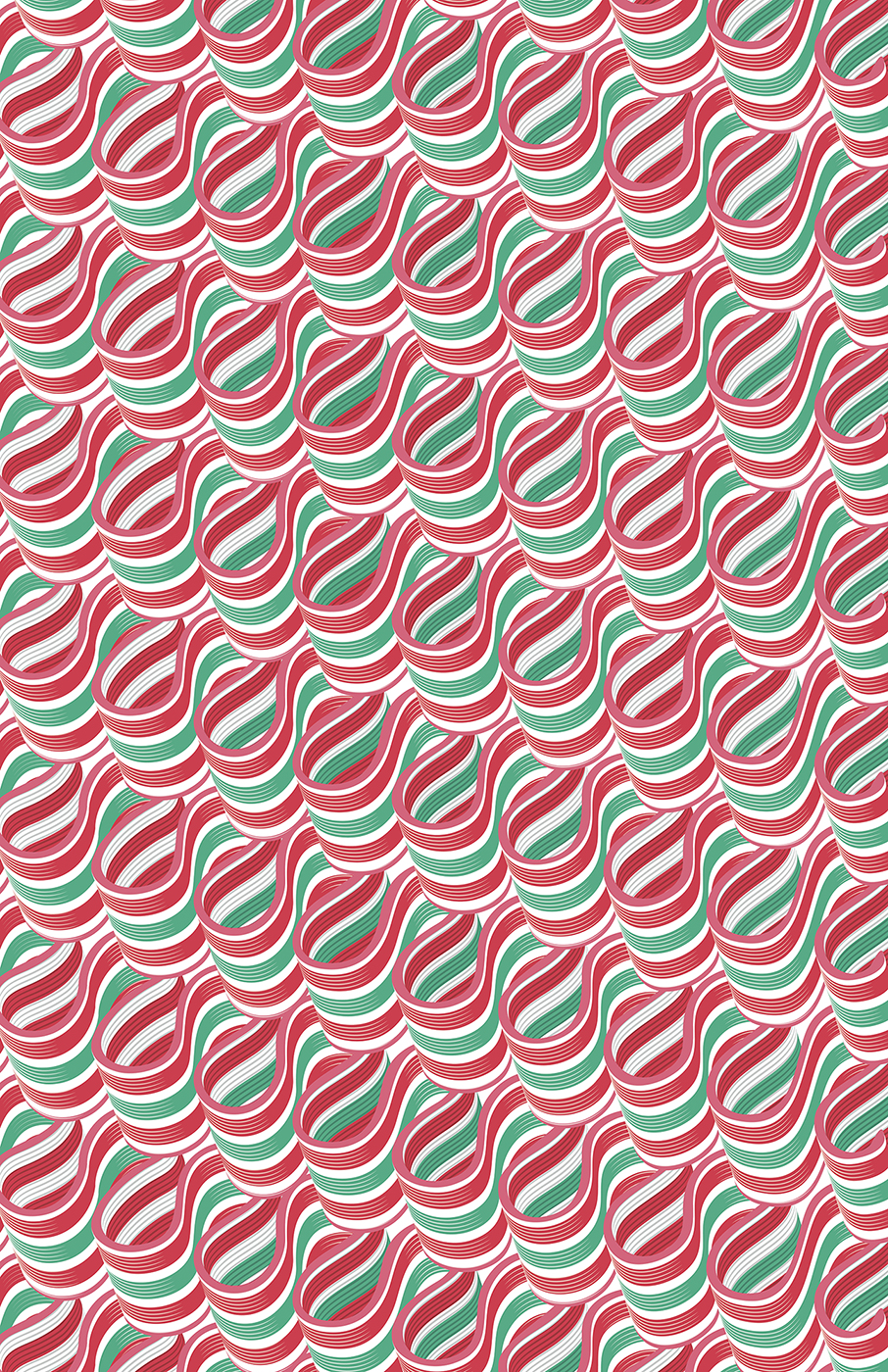 Ribbon Candy
What we did…
We're especially proud of this one!  Ink and High Build coating all in one pass through the press, on text weight stock. Even more impressive is the fit of the high build gloss coating to the image areas.
Production details:
Black UV Ink plus 3 PMS UV PMS inks (1777, 1787 ,339) with Spot High Build Gloss on the ribbons.
Substrate: 70lb Sterling Premium Gloss C1S
Press:
Heidelberg 106 UV, 6 colour, plus coating.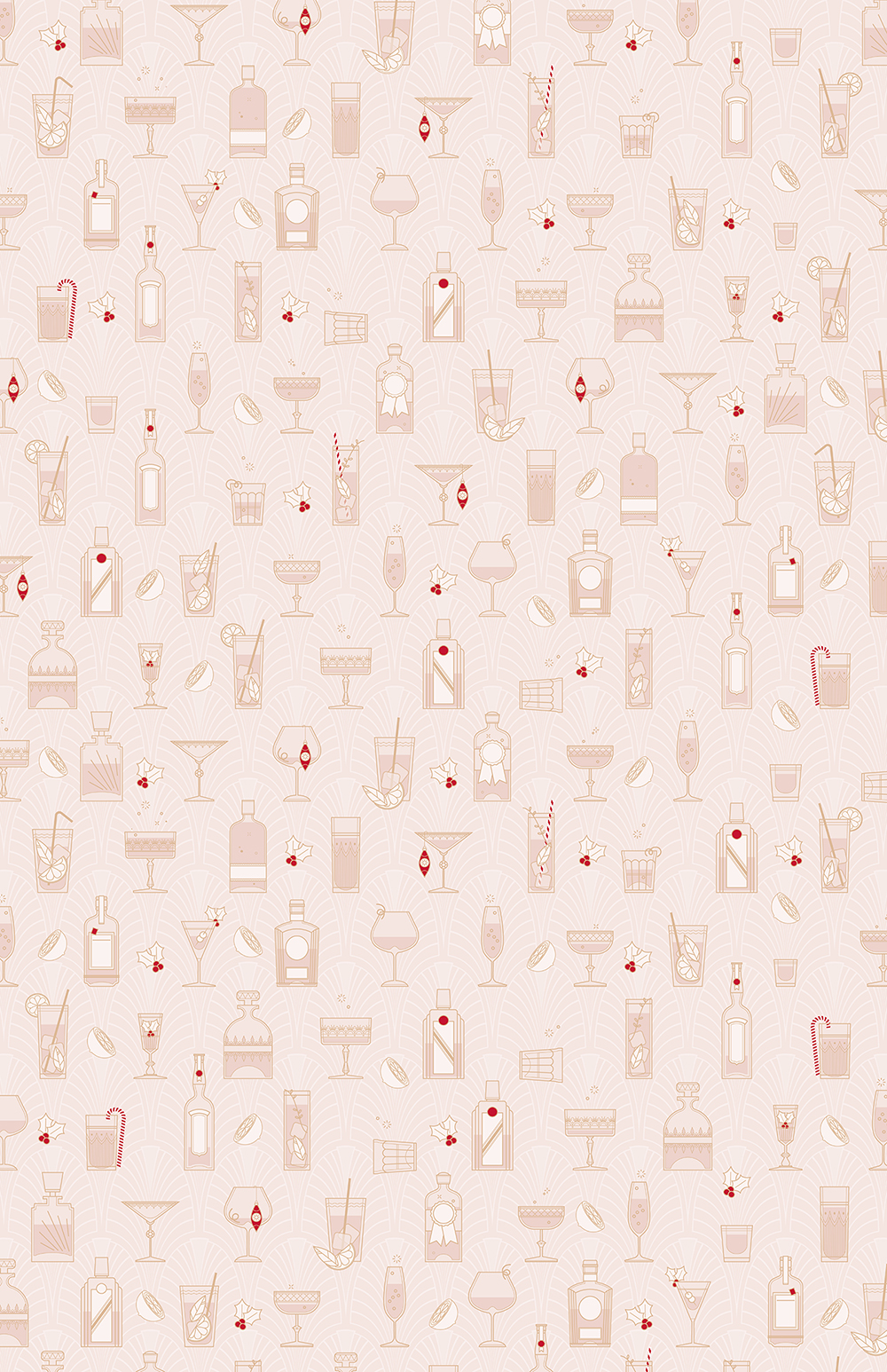 Deco Cocktail
What we did…
Not every project needs high gloss coating, so from a design perspective this one's more subtle. Four different inks were used –  the dull areas have been achieved with a dull UV varnish, and the glossier areas are gloss UV varnish with a PMS fluorescent additive to create something a little different. If you're contemplating something like this, our ink house ink lab is highly skilled at unique formulations.
Production details:
UV CMY (no K) plus PMS UV 185 with a Spot Matte UV Varnish and Spot Gloss UV Varnish with a custom additive. Produced in one pass through the press.
Substrate: 70lb Sterling Premium Gloss Text
Press:
Heidelberg 106 UV, 6 colour, plus coating.
Peppermint Galaxy
What we did…
A few of our technical geeks still like how metallic results such as Gold can be produced with conventional inks. And from a design perspective, many designers like deep colours, with a contrast effect that uses a lighter value. So on this sheet we've accomplished that with single and double hits of the PMS 280 Blue.
To avoid fit challenges, the first hit is a 50% overall screen of the PMS, and the 2nd hit is 100% of the same formulation. By varying the screen value of the first hit, the contrast levels can change.
Production details:
Two hits of PMS 280, plus PMS 872 and Black ink with a Spot Dull Varnish applied to the large inked areas. Produced in one pass through the press
Substrate: 70lb Sterling Premium Gloss Text
Press:
Heidelberg 102 8 colour, with aqueous coater.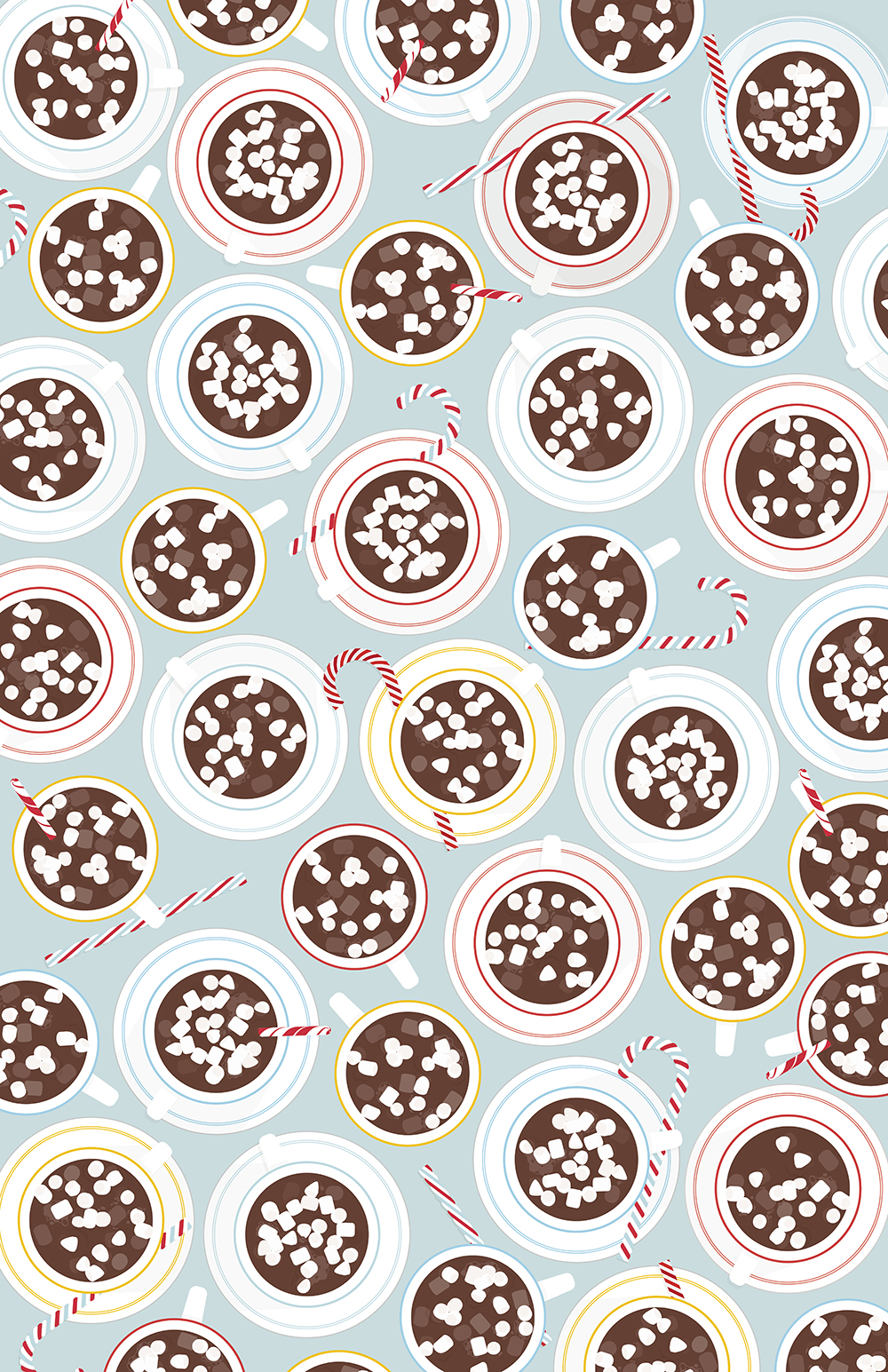 Coco Cups
What we did…
While one of our bigger challenges, after some hard thinking we worked out how to apply Soft Touch coating to uncoated text weight papers ( further complicated by the fact that we're applying the Soft Touch coating to an uncoated sheet that does not have a mill applied surface treatment!)
To experience the Soft Touch effect, drag your finger across the background, then onto the marshmallows – you'll sense a difference in the feel of the surface, and quite possibly an immediate desire for some hot chocolate!
Production details:
UV CMYK Process plus UV PMS 7595 with a Flood Satin Varnish and Spot Soft Touch Aqueous coating on the marshmallows.
Substrate: 70lb Cougar Opaque Text
Press:
Heidelberg 106 UV, 6 colour, plus coating.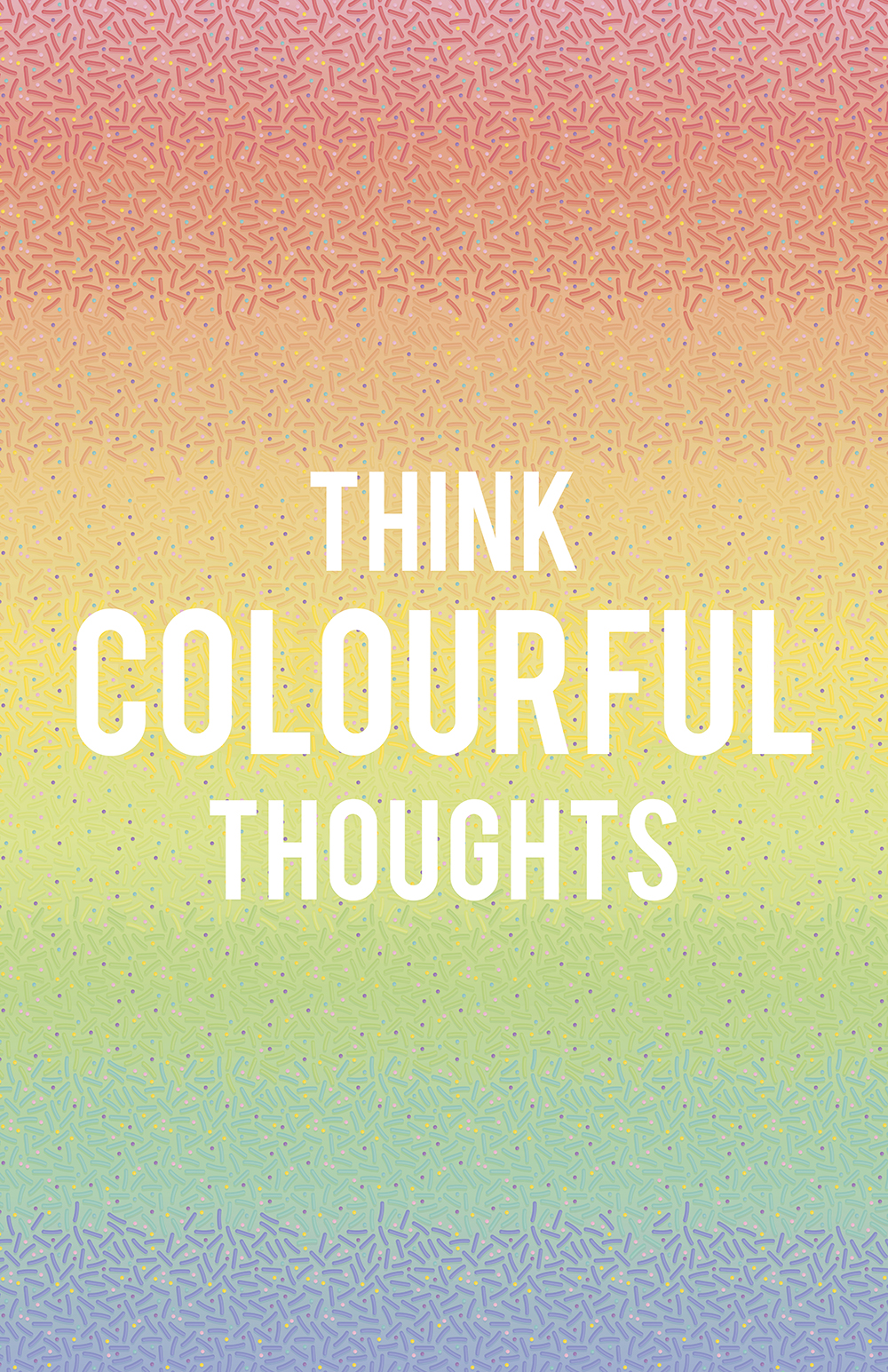 Sprinkles
What we did…
From the technical team's perspective, a unique accomplishment that we're really proud of – High Build Gloss UV coating, applied to an uncoated sheet. There was much debate on using "colourful" versus "colorful", so to keep everyone happy we did both!  In the event we didn't get your preference right, just make a comment to the blog – we've got extras in both languages and can arrange to get you the "right" one.  (note the version with the "u" is pronounced slightly different, it has an "eh" at the end)
Production details:
UV CMYK Process with a UV Primer and Spot High Build Gloss coating on the sprinkles. Double hit to the sprinkles to build it to maximum height.
Substrate: 70lb Cougar Opaque Text
Press:
Heidelberg 106 UV, 6 colour, plus coating.